Meet Eden
From Marcella:  Eden's story was submitted by her mother in August 20122 – 5 years after vaccine injury.
(Written on August 10, 2006 by Tamara, the day after Eden's vaccine injury.)
Eden got her 4 month shots yesterday…seven immunizations in all, three injections. These were the same ones that she had at two months without any issues. Well, we had a horrible scare and our little one is still recouping from the mess. This was already one of those subjects with us that we questioned if we were doing the right thing, at least it was for me, but we decided to go ahead with them.
Eden was bubbly and playful at her well baby check up – She is 12 lbs and 24 1/2 inches long – a bit under weight for her age and height, but she is just a small eater and as long as she keeps growing she is fine per her pediatrician. She was even giving her doctor smiles left and right and was doing great overall while being poked and prodded…she did not even cry or whine once.
However, within 4 hours of getting her shots she was a completely different baby. She was screaming a very high pitched shrill cry and nothing we could do would comfort her. Actually, the more we tried the worse it got because she acted as though it hurt her to just be touched. She turned purple when I tried changing her diaper because she was screaming so hard and refused to eat.
After about 45 minutes of this I called the advice nurse at Kaiser. They told us to give her Tylenol and to put cold rags on her legs and to call back in 30 minutes if she was not better. The cold rags seemed to calm her down, so I did not call back. She sort of just did not want us to touch her so I gave her a warm bath to try and relax her to see if that would help. She managed that and went to sleep after finally taking a bottle.
This morning she was burning. Her leg was swollen and one of the injection sites was all red and inflamed, like a small bug bite. She had a 101.5 fever so I called the advice nurse again. This nurse acknowledged it was a reaction right away and told us that most likely the next round of shots would make it worse so we needed to talk to Eden's doctor about either holding off, splitting them up, or just not doing them now then she told me to give her more Tylenol and to put cool rags on her head until her doctor called us back. We did this and I even took her into the shower with me and put her under the cool water.
At about noon her doctor called. I told her everything that had happened and she kept reassuring me that it was not a reaction. I told her what the nurse said and she said that reactions like that are rare. I quickly pointed out to her that she had seen Eden a few hours before all this started and that she was fine, so her telling me it was something else made no sense at all. She reluctantly agreed and told me to only give her Tylenol on demand when Eden was really bad because that too could build up in her system and cause problems if she was already being susceptible to having reactions. She agreed that we needed to keep cool rags on her and then asked if I was scared to continue her vaccinations. I told her I was and that we would be doing research and talk with her at her 6 month appointment about our options.
Chepe and I are thinking we are going to do what they used to do in Japan and hold off on all further vaccines until she is at least 2 years old. I spoke with a good friend of mine in NC whose daughter had a severe 18 month long reaction 10 years ago and she gave me lots of info and resources, so we are doing our homework on this touchy subject. I would just never forgive myself if we ignored this warning and the next time around she does not bounce back as soon from a reaction. I have spent all day trying to keep Eden comfy, working on getting her fever down, and doing research when she asleep…which seems like way more then usual since she is still not feeling well.
If it is not one thing it is another in the Morales household apparently!
Below: Trying to cool the hot mamacita off :o)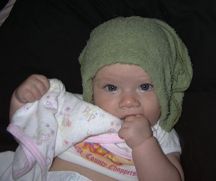 Below: Eden with her dollie, soska (pacifier), and lovie (rag)…she was tolerating the
wet cold rag as long as she had her comforting thing with her. She was too cute even
though she was miserable.
To update — Tamara and Chepe have since decided to become 100% vaccine free.  They based this decision on "huge amounts of time spent researching the facts, numbers, ingredients, diseases, reactions, benefits of natural immunity and everything else vaccine related that they could get their hands on."
The following is another blog post written by Tamara on August 20, 2010:
Vaccine Reaction
The 9th of this month marked four years ago that Eden had her vaccine reaction. That was a very scary day for us and I still can hear her high pitched cry when I reflect on those horrific moments. This high pitched cry is known as the 'cri encephalique' and is an indication of neurological irritation. The brain swells (encephalitis), causing an extremely painful headache which makes the baby cry in a high-pitched way.This is of the most widely recognized signs of vaccination sequelae, and is indication of a severe reaction when accompanied by persistent crying for 3 or more hours, fever over 103F, and excessive sleepiness. Eden had all of these things within four hours of receiving her four month vaccinations, seven vaccines (she weighed a little over 12 pounds).I will also never forget feeling as though we had lost our little one forever, and seeing that same fear in Chepe's eyes. Neither of us would say it, but we knew what each other were thinking, and our silence was pain enough. Thankfully we had a more positive outcome then others and Eden is now a wonderful little four year old full of lots of energy.
Eden's reaction led us to be proactive and become as informed as any parent can be on this topic. We still live with lasting effects of this reaction, confirmed by her neurologist. Though mild they serve as reminders that we were completely naive on this topic and we should have never consenting to anything before doing our own independent research; no parent should. Informed consent is necessary and as parents we have to do our homework, thoroughly in order to properly decide what is best for our children.
A mom named Melissa once posted:
"I'm just a mom. But I was taught where to stand in this universe. I see so many people feeling scared & pressured to get their children vaccinated; they rationalize vaccination as the default. People feel as though they have to be convinced NOT to vaccinate. You have been deceived. We should have to be convinced TO vaccinate. Take a deep breath, go with your instincts, and do your research."
Nearly every day I read ALL about vaccines; the diseases they are supposed to protect us against, rates of infection & complication, rates of vaccine reaction, ingredients, laws, recalls, conflicts of interest, research studies, and the list goes on. I can honestly say that if I had known all that I know now prior to having children, I would no way even considered vaccinations and Eden's reaction would have been avoided. I regret that our ignorance almost cost us our daughter, but am proud that I am now more knowledgeable on the topic and have even been able to help other parents.
"The Environmental Protection Agency justifies setting vaccine levels for Thimerosal Mercury at 50,000 parts per billion. Technically safe by conventional standards if you're a 350 pound adult, but not for an infant."
No one in our home is 350 pounds (insert sarcasm here), so since Eden's reaction we have made the decision to become a non-vaccinating home. There are no annual flu shots for any of us, no tetanus boosters, not even TB tests around here. Eden has received no additional vaccination since her reaction and Lily has received zero vaccines in her life. They are both two healthy little girls that have strong, naturally built immune systems.
A fellow non-vaccinating parent shared this with me a long time ago. I have always hung on to it, since I think it is something very interesting to think about and because I am a numbers person, and remember mercury is not the only toxin in vaccines. Toxins that destroy our natural immune systems.
* 0.5 parts per billion (ppb) mercury = Kills human neuroblastoma cells (Parran et al., Toxicol Sci 2005; 86: 132-140).

* 2 ppb mercury = U.S. EPA limit for drinking water (http://www.epa.gov/safewater/contaminants/index.html#mcls).

* 20 ppb mercury = Neurite membrane structure destroyed (Leong et al., Neuroreport 2001; 12: 733-37)

* 200 ppb mercury = level in liquid the EPA classifies as hazardous waste (http://www.des.umd.edu/hw/rest/manual/codes.html)

* 600 ppb mercury = Level in a currently licensed Hepatitis B, multi-dose vaccine vial, labeled as trace. This is administered at birth.

* 25,000 ppb mercury = Concentration of mercury in multi-dose, Hepatitis B vaccine vials, administered at birth from 1990-2000 in the U.S. Not administered at birth in any other developed country.

* 50,000 ppb mercury = Concentration of mercury in DTaP and Haemophilus B vaccine administered 8 times in the 1990's to children at 2, 4, 6, 12 and 18 months of age. Current "preservative" level mercury in flu, meningococcal and tetanus (7 and older) vaccines.
But, what about Polio???
Before I end I feel that I need to address this because it is the one question that I can almost always bet I will get asked when people are made aware of our no vaccine stance. This was a question I was concerned about too in my early days of vaccine research, so here is the answer I tell people:
 "Polio is most prevalent in India, where in 2009, 741 people contracted it. The population of India is 1,147,995,904. This means that in the country where Polio is seen as dangerous, the percentage of people who contract it is 0.000006%." –Earthy Motherhood
Per the CDC, the last cases of naturally occurring paralytic polio in the United States were in 1979 and the last imported case caused by wild polio virus into the United States was reported in 1993.
Click 

here

 to return to read more stories.